Snap It® Installation and Removal Tools
This Snap It® Kit Provides All the Tools Necessary to Install and Remove Snap It Sr. and Jr. Engineered Tube Plugs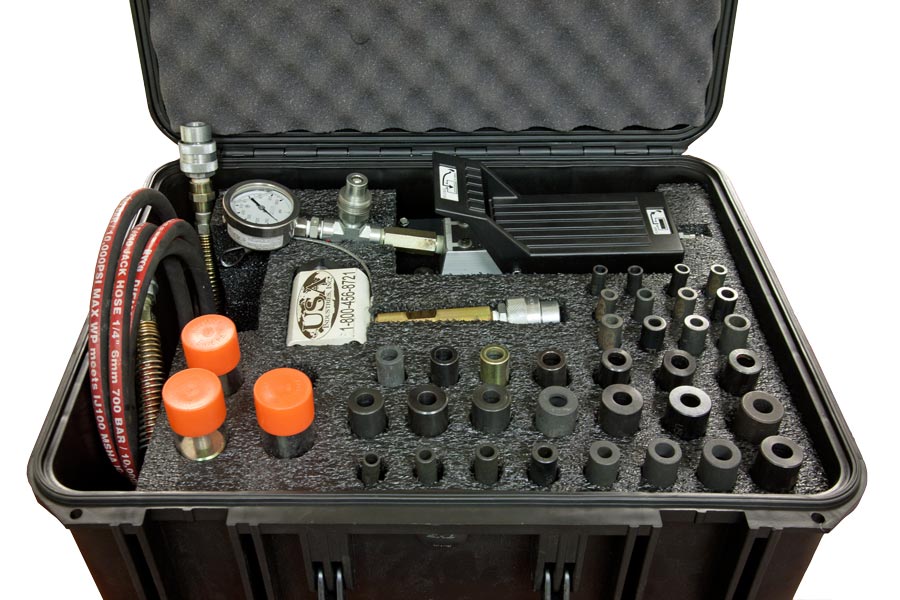 PRODUCT FEATURES:
Experienced users install plugs in 60 seconds or less
Header Boxes and Channel Heads do not need to be removed
Eliminates problems from hammer-driven or welded plugs
Available for rent or purchase
In-stock kits ship within 24 hours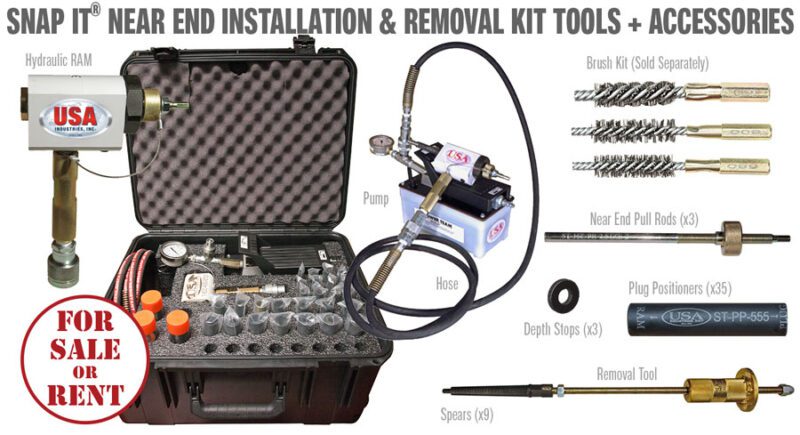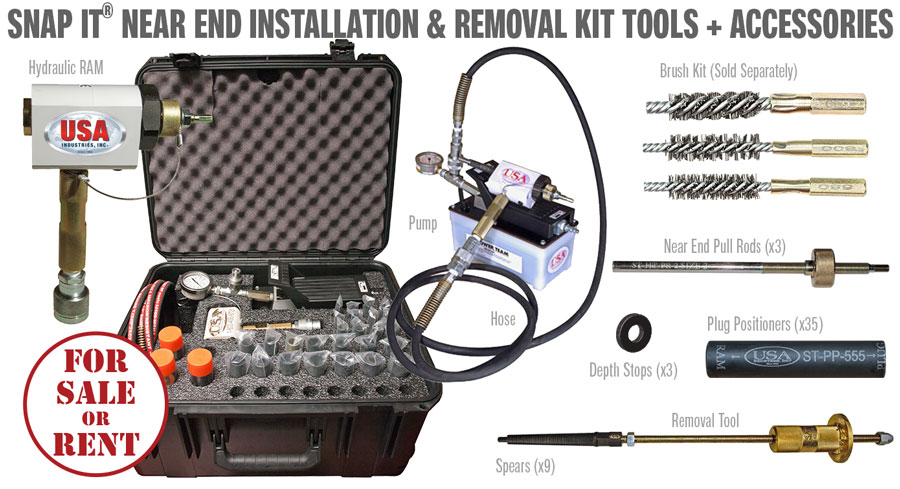 PRODUCT DESCRIPTION
USA Industries' Snap It tube plugs are quickly and easily installed with our installation and removal tools. We offer a variety of tools in multiple sizes that are available to buy or rent, with the goal of saving you time and simplifying the installation process.
Ask For USA Industries' One Rev Internal Tube Cutter to Puncture Tubes Before Installation!
Snap It Plugs should always be installed within the rolled section of the tubesheet. If the tubes are not rolled into the tubesheet, consult USA Industries (1-800-456-8721) before proceeding. Remove scale and pitting with USA Industries' Snap It Brushes prior to installation. Any weld droop should be removed prior to plug installation.
6 – Through-The-Tube or Far End Plugging of USA Industries, Inc.'s Snap It® Jr. Plug
Select the tube plug installation category you want to view below: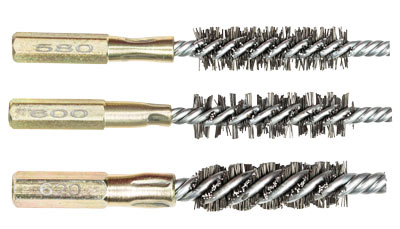 Tube Preparation Tools
Tube brushes are ideal for properly prepping your heat exchanger tubes for a tube plug. The brushes remove pitting and corrosion from inside the tube, allowing optimum sealing and holding forces for your Snap It tube plug. Because Snap It Jr. has a range of tube sizes that it can effectively seal, brush kits come with 3-4 brushes per kit. Use the smallest brush in your brush kit that effectively cleans and preps the tube. Snap It Sr. brushes are provided for the exact tube size ordered, ensuring a perfect fit. This step is absolutely crucial to ensuring you have the optimal seal with your tube plugs.
Frequently Asked Questions
Snap It Jr. tube plugs are rated up to 1,000 lbs of pressure, and Snap It Sr. tube plugs are rated up to 7,000 lbs of pressure, but with our independent testing, we've seen blowout pressures exceeding 12,000 and 28,000 PSID, respectively.
We can make your Snap Its in any exotic or standard metal, and regularly produce tube plugs in more than 20 different materials. Most commonly requested metals include: 70/30 CuNi, 90/10 CuNi, Brass, Carbon Steel, Chrome/Moly, Hastelloy, Inconel, Monel, Nickel 200, Stainless Steel (316 and 304), Titanium, Zirconium and more.
We rent or sell individual parts, whether you only need tube brushes, hydraulic tool, pull rod assembly, channel head pull rod assemblies, extensions or plug removal tools.
These plugs don't require welding, completely removing the risk of a spark igniting dangerous fumes or chemicals.
We strongly suggest never standing in front of an installed tube plug, but Snap It tube plugs, with proper installation, have been independently verified to keep from blowing out at pressures exceeding 28,000 PSID.
Snap It Sr. has five points of contact and Snap It Jr. has three. This means that Senior plugs have a much stronger seal (up to 7,000 PSID) and Junior plugs have more flexibility to expand to different size tubes.
Both Snap It Jr. and Snap It Sr. tube plugs require some tools for installation and removal. We strongly suggest using tube brushes to clean and prep your tubes, then installation is a breeze. Our hydraulic ram does all the heavy lifting, ensuring an easy installation process and preventing over-torquing the plugs and causing damage to the tube sheets.
Our Snap It Tube Plugs require ZERO proprietary pieces of equipment to install. Don't get locked into expensive equipment issues after your purchase. Call us and we can confirm your existing tools will work with ours. If not we offer short-term rental and purchase for installation tooling.
Once you've installed a few Snap Its, you'll find it takes less than 60 seconds to prep and install these tube plugs. Now you can skip welding, and save up to 80% in labor costs with a quick and consistent installation process!