Header Plugs, Shoulder Plugs for Heat Exchangers
Rapid Delivery of Header Plugs for Fin-Fans® and Air-Cooled Heat Exchangers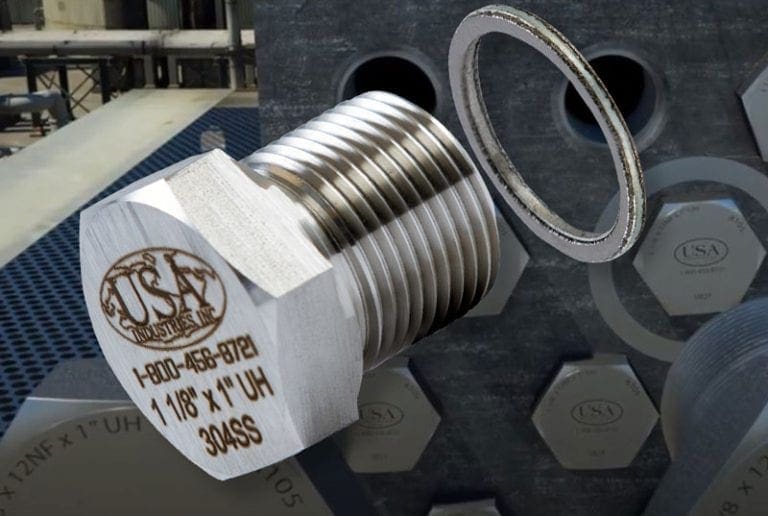 PRODUCT FEATURES:
Available in 20+ metals and coatings
Production capacity of 1,000+ plugs daily
Rapid turnaround on custom sizes / materials
Same-day shipment on in-stock sizes
PRODUCT DESCRIPTION
USA Industries is the go-to company for several of the world's largest power plants, refineries, and chemical facilities for header plugs or shoulder plugs. We pride ourselves on our rapid production capabilities, quick turnaround times, and flexbility to produce our plugs in almost any combination of metals (carbon steel, stainless steel, copper and brass are standard), coatings (cadmium, electroless nickel, galvanized, nickel, zinc or uncoated) and size.
Frequently Asked Questions
We don't have a minimum quantity. We know sometimes you need 1 plug there tomorrow, and we're here to help! We do offer price breaks for larger quantities.
Yes! We offer both flat gaskets and our EZ Torque® Gaskets, which require less than 50% of the torque a flat gasket requires to seal.
Yes, we offer both Zinc and Black Iron coatings on our header plugs / shoulder plugs.
Yes, we can have your plugs plated in cadnium.
We're a custom machine shop as well as a manufacturer of piping accessories and tube plugs. We have all the resources neccessary to meet your needs for any custom specifications when making your plugs.
Yes! We're able to customize plugs to your exact specifications.